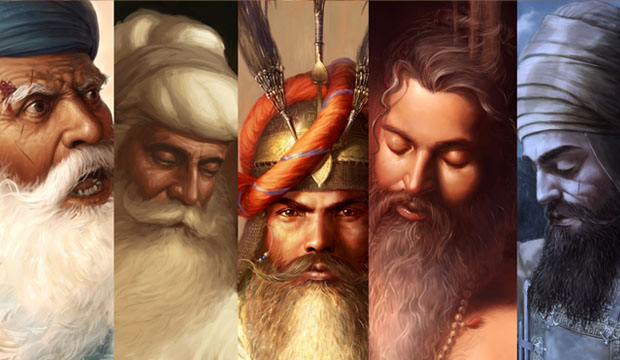 Sikhi Art™, The Essence of Warriors and Saints™ is the official website of artist Bhagat Singh Bedi.
Bhagat Singh Bedi, Painter of Gods, Guru, and Guardians™ depicts ancient Sikhs and Indian Spiritual Traditions with passion and with a high level of historical and spiritual authenticity. Bhagat Singh Bedi, Artist Profile »
Bhagat Singh is known for his Sikh paintings, depicting ancient Sikh heritage, of warriors and saints in vivid colours. A Sikh strives to be a Warrior-Saint and Bhagat's Sikhi Art embodies and emphasizes those qualities of Bir Ras and Sant Ras, Warrior Essence and Saint Essence. Gallery of Sikh Art »
In addition to Sikh history and Punjabi paintings, SikhiArt.com also showcases Bhagat's Hindu Paintings, images of the Divine Cosmic Being as described in many religions of India, and his Fantasy Art, images of fierce warriors with massive turbans.
As Bhagat grew spiritually and began to understand the depth of spiritual and mythological realms, he also began to research and create Hindu paintings. The diverse images of Gods and their stories, inspired Bhagat to paint them! Gallery of Hindu Art, of Various Religions »
Bhagat had also secretly been working away on many Fantasy paintings inspired by Sikh aesthetics. These include images of powerful warriors wearing turbans of epic proportions! Gallery of Fantasy Art »
Fine Art Prints of Bhagat Singh's artwork are available to purchase as high quality Giclee reproductions for your home, starting at $59.99. They make excellent gifts as well. Bhagat's premium product is aptly named the Premium Gloss Canvas. These are gorgeous high-quality prints that you can cherish with your family for generations! They start at $299.99 and can be passed down to children as antique Sikh art. Product Information »
Reproductions of Bhagat's paintings have sold world-wide, including United Kingdom, United States, Canada, Australia, Singapore, Dubai and India. Shipping is available to all countries! SikhiArt.com (with Imagekind) is the only place to get original reproductions and artwork from the Artist. An automated Check-Out system is in place in our Shop, ready to take your order! Visit the Shop »
For young artists looking for art tutorials, and for Bhagat's fans looking to get a glimpse behind-the-scenes into the artist's process, Bhagat has created Youtube Videos. Behind-the-Scenes Videos »
To commission a painting and for further information please contact the artist. Contact Us »